September birthstone blue sapphire jewelry
Gorgeous sapphire and lapis lazuli – those lucky September babies have such great birthstones! Jewelers consider sapphire to be a precious stone, along with diamond, ruby and emerald.
This post will cover the amazing sapphire.
Sapphires come in many colors, although they are most associated with blue. In fact you will hear artists speak of sapphire blue as a particular paint color. The movie "Sapphire" is about a girl who is passing for white in racist in 1950's Britain.
However sapphire is found in many colors: pink sapphire is the most famous.
Sapphire is hard enough to use in carving, and you will see it in pottery and carving as well as jewelry.
September birthstone blue sapphire Rings
The traditional birthstone gift is the ring. Here are some beautiful genuine sapphire rings that will be true birthstone heirloom gifts.
Oval Blue Sapphire & White Sapphire Gemstone 925 Sterling Silver Women's Ring
Sterling Silver and 14k Yellow Gold Blue Sapphire and Diamond-Accent Art Deco Style Ring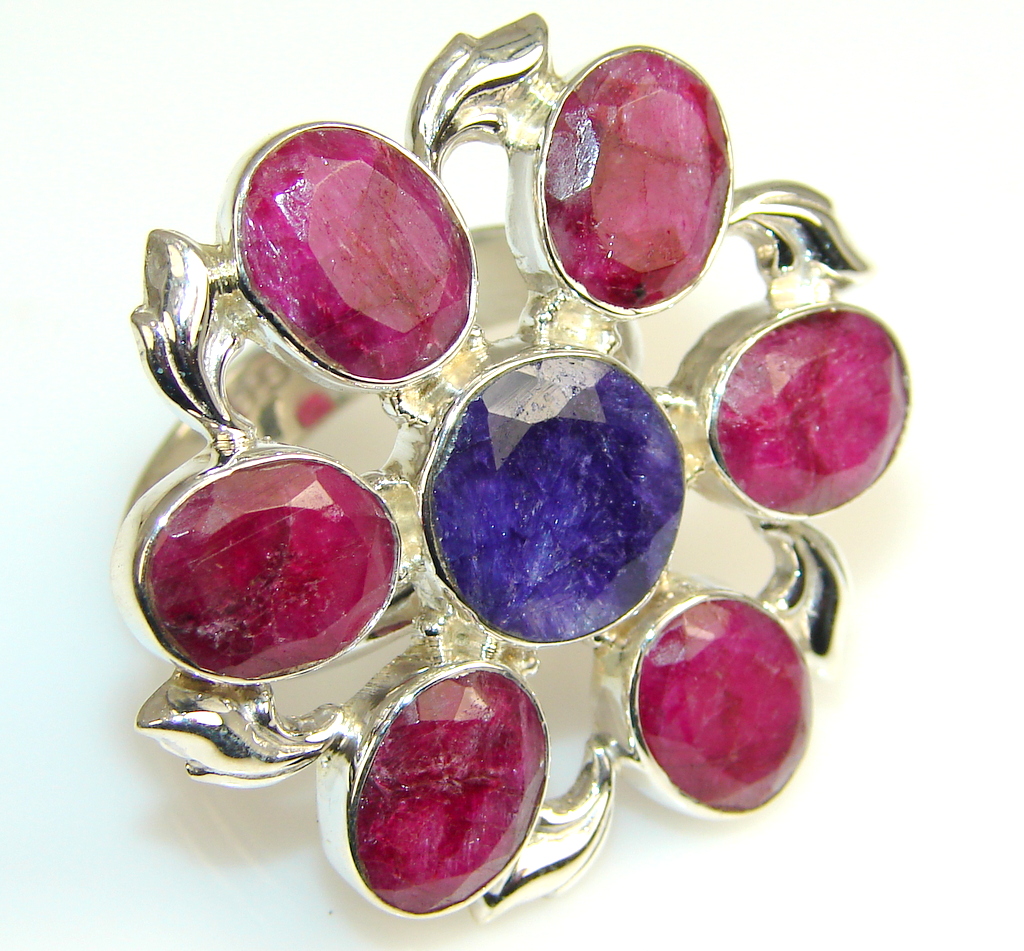 Beautiful Sapphire Sterling Silver Ring s. 12

Oval Blue Sapphire and Sky Blue Aquamarine 925 Sterling Silver Women's 3-Stone Engagement Ladies Ring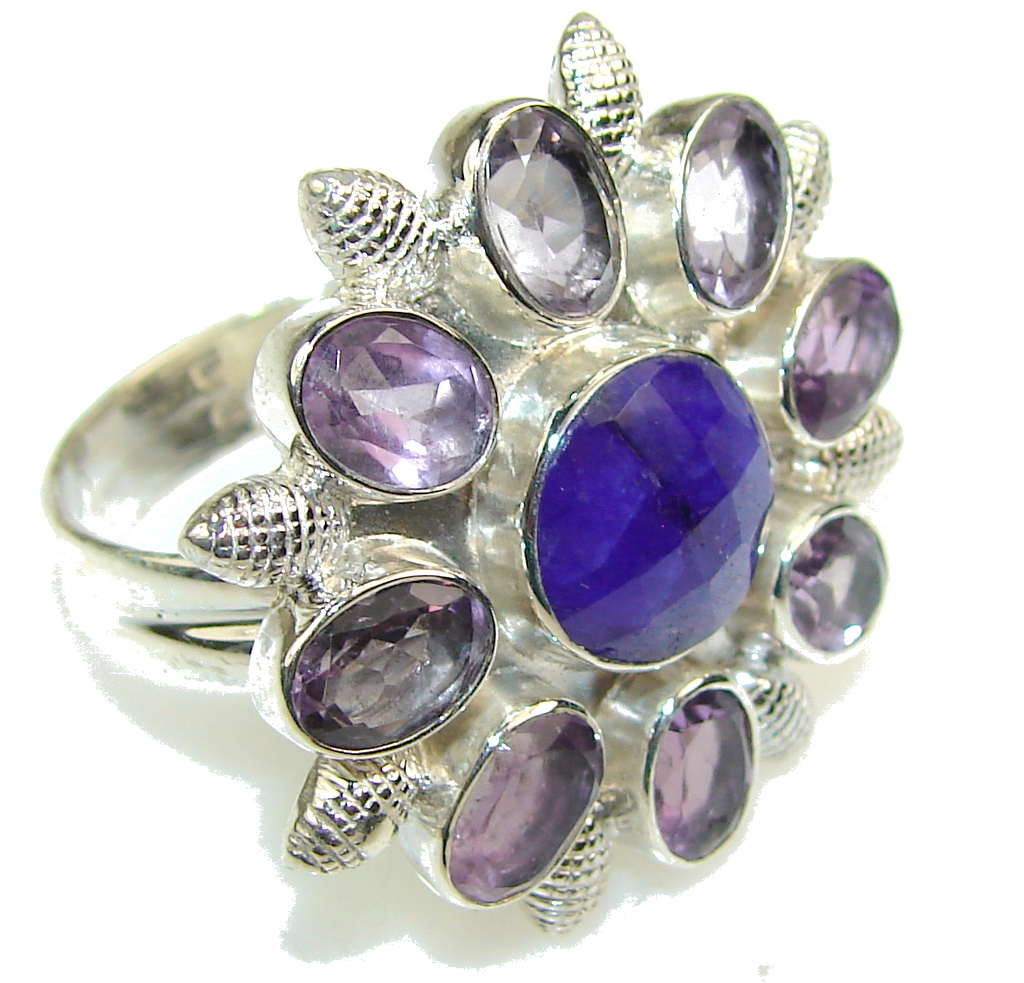 Natural Blue Sapphire Sterling Silver ring s. 12

Sterling Silver Purple Amethyst & Blue Sapphire 3-Stone Ring – Sizes 5 -9
Crystal healers believe that sapphire is associated with Divine favor;  a royal stone of learning, mental acuity and psychic activation, a seeker after spiritual truth. Its pure blue ray brings order and healing to the mind, lending strength and focus, and an ability to see beneath surface appearances to underlying truths and to utilize that knowledge. It stimulates the Throat and Third Eye Chakras, allowing one to access deeper levels of consciousness in order to gain a fuller understanding of self.
Is this the Most Famous Sapphire Ring Ever?
Princess Kate Continues the Tradition By Wearing Princess Diana's Sapphire Ring
Of course it is unusual to have a sapphire wedding ring. But we can agree it is a ring fit for a queen.
Princess Kate Middleton thrilled the world when she revealed that she was to wear the beautiful 18K Sapphire ring that Princess Diana had worn as an engagement ring. It is indeed a phenomenal ring – 18K of sapphire in a bed of diamonds.
Here she tells of the honor she feels of wearing the ring that had graced the hand of Prince William's mother.
Sapphire Mineralogy
Sapphire is composed of the mineral corundum, a  very hard form of aluminum oxide. Corundum is tough and hard, resistant to chemical reactions.
So it lasts. Only a small amount of corundum is translucent and pure enough to be used in gems. As conundrum interacts with other minerals, it is not destroyed but develops colors. Pink, blue, yellow and purple are called "sapphires" and red conundrum is classified as ruby.
Who would think that an aluminum oxide component – corundum – would create such beautiful gems? Sapphire is made up of corundum: the mineral has iron, titanium and chromium interspersed as well as the aluminum.
The Mohs scale is used by jewelers to measure the hardness of a mineral. Because the diamond is the hardest – a ten on that scale, all the gems are measured against it. Therefore the sapphire is a nine. Thus, it can be used in industry as well as jewellery. There might actually be some sapphire in the the wristwatch crystals you have on your wrist, and you may come in contact with it through any casual contact you have with certain kinds of scientific instruments or infrared optical equipment.
But I love it most in the beautiful sapphire jewellery; whether it is huge pieces that I will only look at in a museum or more modest yet still lovely pieces that I can wear.
Beautiful  September birthstone blue sapphire Earrings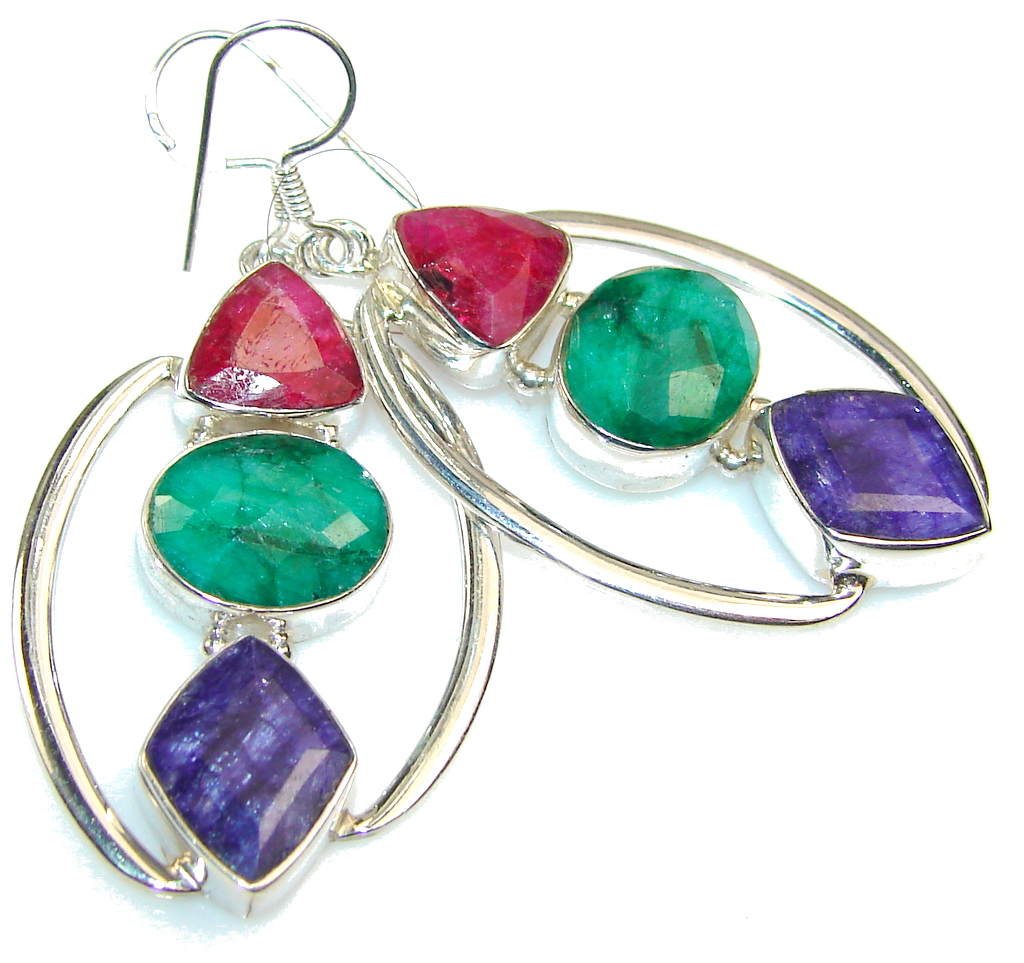 More Fun!! Blue Sapphire Sterling Silver earrings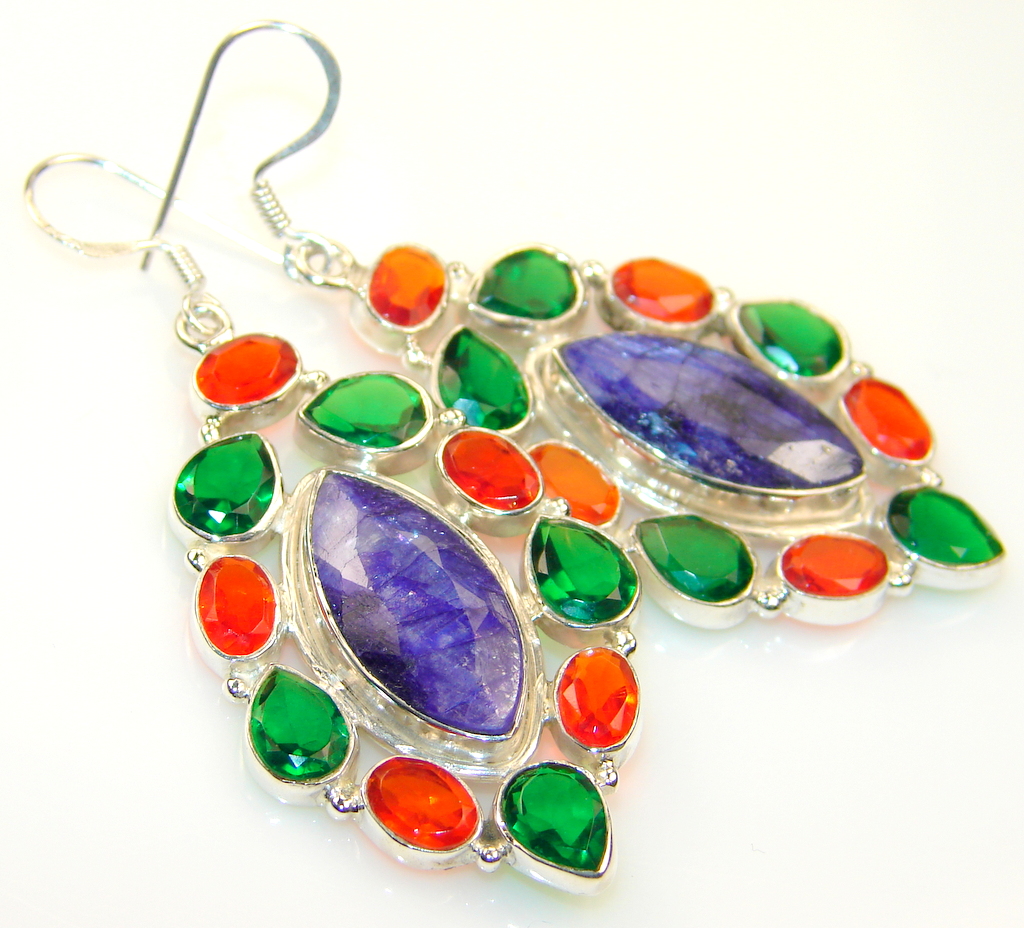 Prestige Sapphire Sterling Silver earrings

Natural Blue Sapphire 925 Sterling Silver Women's Leverback Earrings 3.58 Ct Oval 8X6MM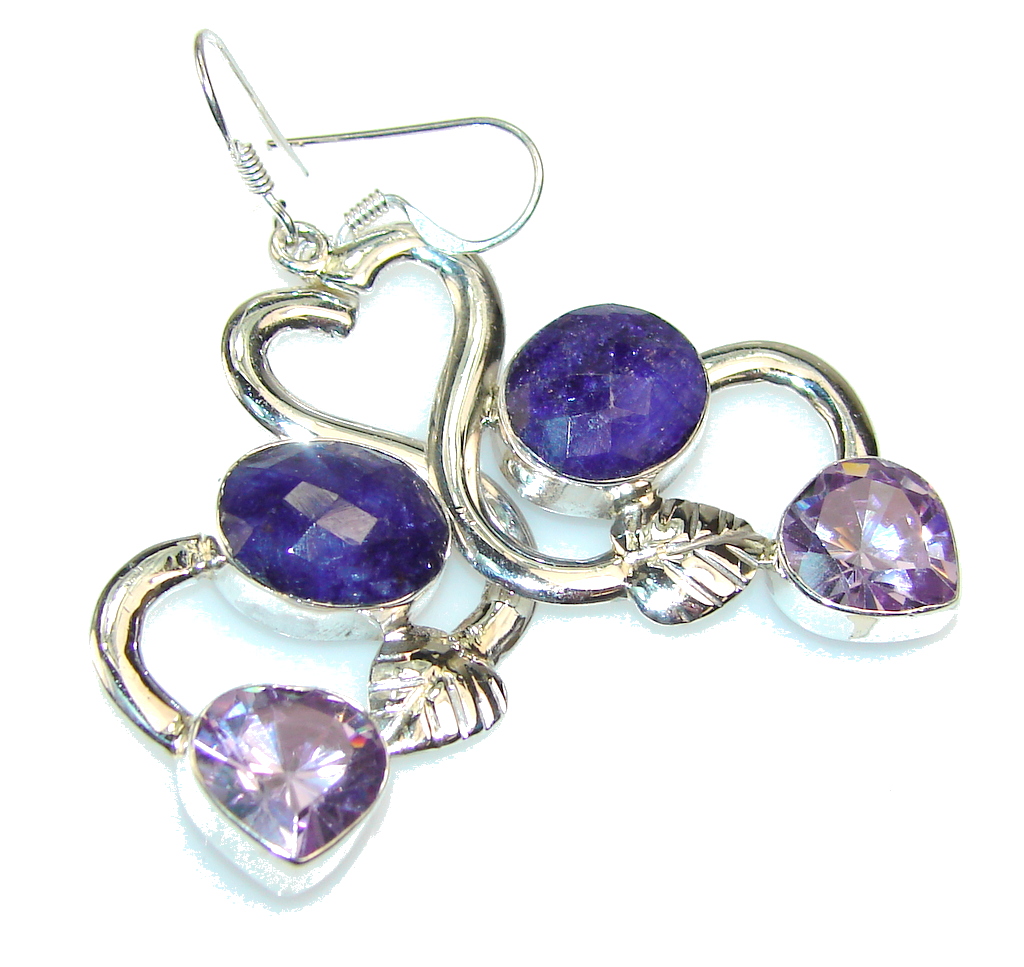 Natural Beauty!! Sapphire Sterling Silver earrings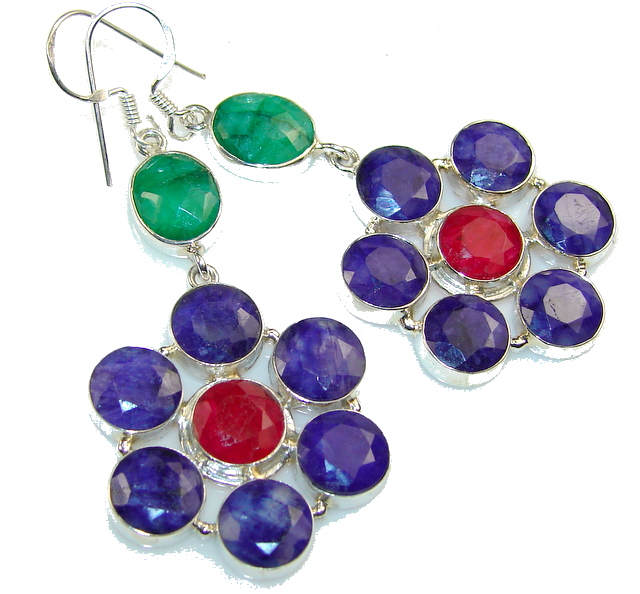 Paradise Bloom!! Sapphire Sterling Silver earrings

Sterling Silver Created Blue Sapphire & White Topaz Round Halo Leverback Earrings

Vibrille 6mm Round Created Blue Sapphire Sterling Silver Stud Earrings for Women with Cubic Zirconia Halo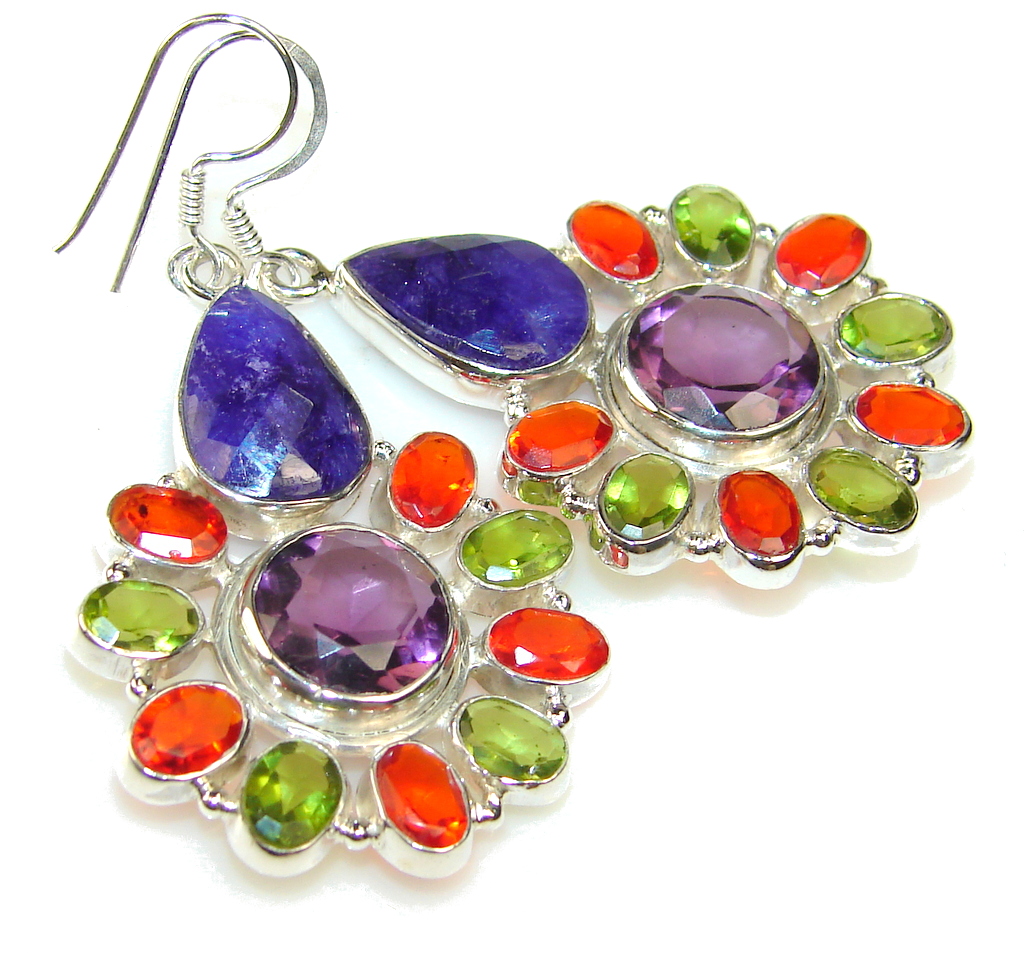 Movment Blue Sapphire Sterling Silver earrings

2.04 Ct Oval Blue Sapphire 14K Yellow Gold Gemstone Birthstone Stud Earrings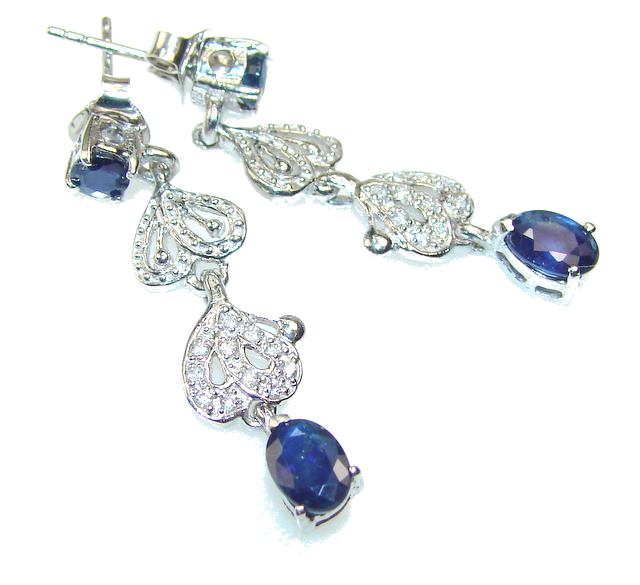 Luxury Blue Sapphire Sterling Silver earrings

Created Blue Sapphire Dangle Earrings Sterling Silver 5.00 Carats

A 423 Carat Blue Gem – the Logan Sapphire
Seems like the Logan sapphire is the biggest in the world, and it has a treasured place in the Smithsonian.
When money's no object………..
You can buy a priceless sapphire like this.  Most of all, besides the monetary effort it would be priceless, and irreplaceable.
Compared to the Logan sapphire, Princess Kate's is a measly 18 karats.
Can you imagine wearing this sapphire?
Gorgeous Logan Sapphire:
What were Your Favorite Pieces?
All across the world sapphire is associated with the color "blue."
Now you know that sapphire can be many colors from canary yellow to deep purple. And I have introduced you to another blue stone: lapis lazuli.
Finally, I hope you have enjoyed the great jewelry that I have found for you!