Mysterious, multi-colored gem Opal October birthstone
Opal October birthstone is a rainbow in every stone!
Opal is perhaps my favorite birthstone, except my personal birth stone: ruby. The natural color is a milky-white, but I love the quality of color changing that fine opal shows. It is legended that opals were created when rainbows broke open and came to the Earth. This is a mysterious stone to me, I find myself going into a deep place when I look at it. All the opals are very powerful healers and balancers, especially with your emotions.
Opal has often been associated with rainbows. Australian  aborigines believed that opal was the 'Rainbow Serpent.' Their reverence went to fear. In Indian culture,  opal was the "Goddess of Rainbows." The story is that she  turned herself into a stone to escape from other gods.
Either way – or both – your October beloved will be well served with this birthstone jewelry. Opal is a fine gem, but I found that there actually was quite a bit of great genuine opal jewelry available on Amazon for between one hundred and two hundred dollars.
Traditionally the four precious gemstones are emerald, diamond, ruby and sapphire. But for my money, opal is every bit as beautiful and as special. My best friend from high school introduced me to it, and I suppose that the fact that my grandmother's name is "opal" doesn't hurt. I have always had a hankering to possess some for myself, finding this discount genuine jewelry is promising.
Opal October birthstone is A Gem that Is in a World of It's Own
It is truly a precious find – one writer called it: "a damn good way to get yourself killed. " Basically, the miner – and believe you me these are some gnarly and tough guys decide blindly where they think that opal might be, dig a hole and lower themselves into it. Most of it is done in the Australian outback, an area not well known for hospitality and niceties. Sometimes home-made explosives are involved.
As I researched these stones, I learned that the mining of them is extremely hard and dangerous work. This hard work  adds to their preciousness.
I wish the adventurers well – and treasure the opal more.
Opal has silica dioxide spheroids embedded in them. For the play of color – or the fire to develop the spheroids must be approximately the same size and in a pattern.
As light experiences interference and diffraction through the silica that makes up the stone, a wonderful phenomena called play of colors develops and that is primarily what makes opal so beautiful.
If you want to dig for opal, your first stop should be Australia. Almost 95 percent of the Earth's opal comes from Australia. If you are unlucky there you might try Brazil or Mexico.
The different kinds of Opal
There are several kinds of opal, and although not all are jewellery quality, all are precious to me. The extremely rare black opal is mined only at the Lightning Ridge mine in New South Wales in Australia. Their base color is dark gray to jet black, but that does not tell you anything about the beauty. Black opals show the different colors best of all the stones. Black opals and some others are precious. I have told my son that when he becomes rich I want a black opal brooch.
Fire opals do not show the play of color but they are translucent and beautiful. Red is the predominant color in a fire opal.
There are other varieties available such as the milky white opal, and they all are gorgeous.
A truly outstanding Opal October birthstone and ruby July birthstone ring
Two beautiful birthstones: opal, the birthstone of October and ruby, the birthstone of July.
925 Sterling Silver Natural Ruby and Opal Womens Cluster Ring – Sizes 4 to 12 Available
Fabulous Solid Sterling Silver Natural Ruby & Fiery Opal 3 Tier Large Cluster Ring fits almost everyone with finger sizes 4 to 12 available. This is a precious jewel, one type of  opal that is  the high-quality jewelry stone that exhibits play of color.
But although the rubies are outstanding here, they do not overshadow the natural, fiery opal. That is because although opal is almost white, it is never understated: it always shines memorably. This ring is a knock-out and the lady who wears it will be too.
&
&
More Opal October Birthstone Rings
Opal is magnificent is all of its many forms. Only a small portion of the mineral that is collected is good enough for fine jewelry, although much of it can make pretty pieces nonetheless.
Opal seems to have its own vocabulary: "play of color" which refers to the splash of colors as light dances through the stone – this quality is so unique it is also called: "opalescence."
Australia is a primary source for opal. In fact opal is the national stone. However, it can be found in many parts of the world, and black fire opal is the state gemstone of Nevada due to the Humboldt fields finds.
14k Yellow Gold Natural Opal Womens Cluster Ring – Sizes 4 to 12 Available
14k White Gold Natural Opal and Diamond Womens Cluster Ring (0.3 cttw, H-I Color, I2-I3 Clarity)
14k White Gold Natural Opal Womens Trilogy Ring – Sizes 4 to 12 Available
Opal October Birthstone Necklaces for babies and ladies
I was first introduced to this gem by a high school friend.  I always knew I would have to have one.  The necklaces are even more nicer than the rings.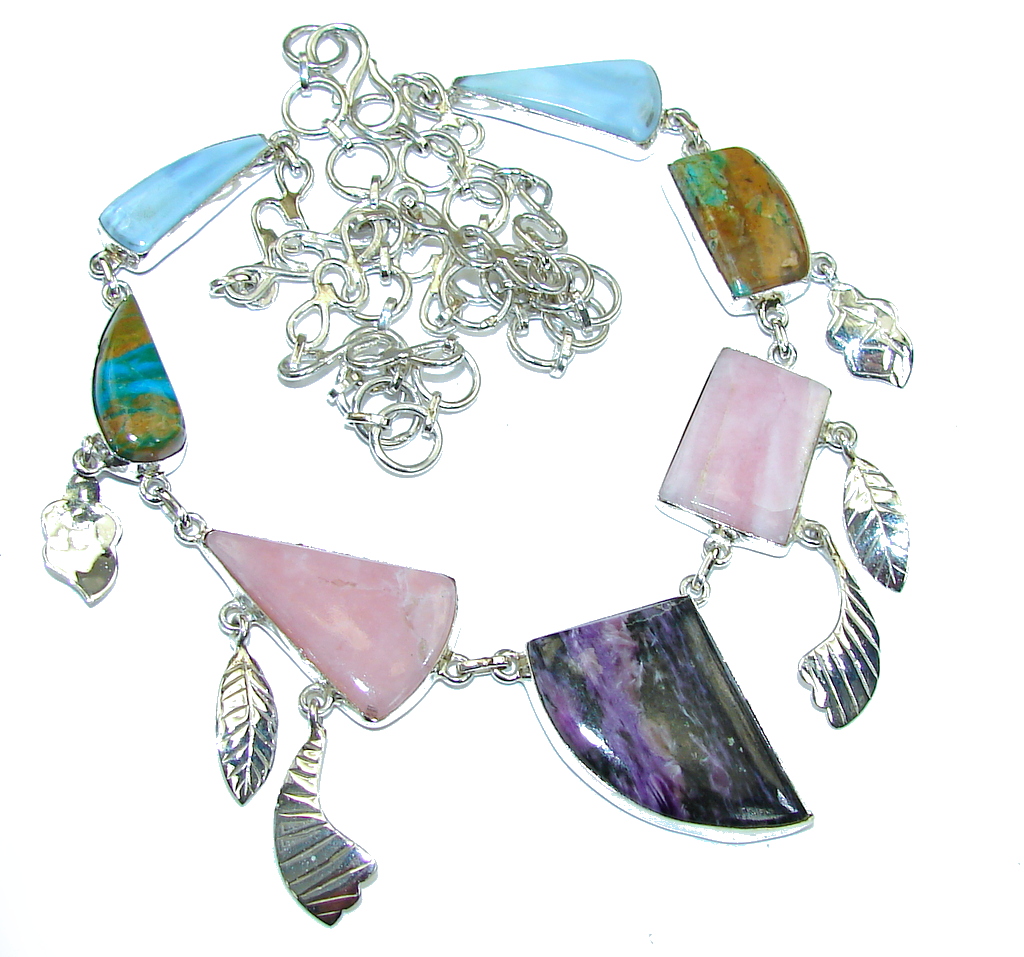 Lavender Secret!! Purple Charoite & Pink Opal & Peruvian Opal & Lace Agate Sterling Silver Necklace

PAVOI 14K Rose Gold Plated Round Bezel Set White Opal Necklace 16-18
AAA+ grade, 4mm Round Opal, Natural Ethiopian Welo Fiery Opals in 14kt GOLD FILL SET of Necklace & Earrings. October Birthstone with excellent color play.
PAVOI 14K Rose Gold Plated Native American Jewelry White OPAL Deer Antler Necklace 16-18
14k Yellow Gold Heart Pendants: Baby & Children's Necklaces – 14k Heart Opal Pendant on 15 Inch Chain

Silver Elegance Necklaces: Sterling silver syn pink opal croSterling silver necklace

Opal October birthstone : gorgeous fireopals.
Fire opal does not show  play of color, but nonetheless has translucence and brilliance. Fire opal can be very valuable.
Autumn is a wonderful time to wear beautiful orange, red and yellow birthstone jewelry.
Fire is  opal's unique ability to show different colors depending on the light or who is wearing. The fire quality of opal, as well as play of color  makes it magic. Generally, the better the stone the more fire.
Fine jewelry from UNIKAT is of exceptional quality. These amazing fireopals in the yellow-orange fireopal on 14 K gold are true treasures. Each piece is individually made.
More economically priced fire-opal is available  from Silver Rush.
There is a place for stunning pieces like those from UNIKAT listed shown below. However, you can start in  more humbly. You will still  have a gorgeous necklace!
&
 UNIKAT Genuine Natural Fireopal 14K Yellow Gold Pendant – Goldsmith Quality
 UNIKAT Genuine Natural Fireopal 14K Yellow Gold Pendant – Goldsmith Quality
 UNIKAT Genuine Natural Fireopal with Diamond 14K Yellow/White Gold Pendant – Goldsmith Quality
&
Opal October birthstone Earrings
Thus opal's mystery's truly is one of nature's miracles.
Here are some beautiful natural opal earrings. I love to wear earrings, and to give them for gifts. My favorites are the solid white gold leverbacks with the heart-shaped opals. The very unusual handcrafted earrings made from fire opals on beautiful sterling silver are also exceptional. Furthermore it is even better that they are  accented with beautiful peridot.
6x4mm Genuine Opal & Diamond Oval Stud Earrings .925 Sterling Silver Rhodium Finish
ALL NATURAL GENUINE GEMSTONE Sterling Silver OCTOBER WHITE OPAL Round Birthstone Earrings
1.3 Carat 14K Solid White Gold Leverback Earrings Natural Opal
&
&
The Roman writer Pliny wrote of gemstones in 55 AD. Pliny said "for in them you shall see the living fire of the ruby, the glorious purple of the amethyst, the sea green of the emerald, all glittering together in an incredible mixture of light."
Furthermore,  every color known to man can be found on opal.
How many colors is in this magic stone?
What is the limit to how many your eyes can see?
As a result of opal's mysterious play of color it has inspired literature and poetry. Shakespeare believed opal, not the diamond is the "Queen of Gems."
Opal October birthstone and sparkly tourmaline are October's twin birthstones – and I have found plenty of gifts in both of these birthstones for both.


Please comment!