Bloodstone birthstone jewelry along with aquamarine are the two birthstones of March.
Bloodstone birthstone jewelry is a lovely addition to the birthstone world. It is said that March comes "in like a lion and goes out like a lamb" and I think that duality is expressed beautifully in the two gorgeous birthstones of March : the fierce and vibrant bloodstone, and the misty blue-green aquamarine. I have a Pisces sister born who was March 14, and an Aires brother who was born the 27th of the same month. The personalities of my March siblings remind me of the two stones attributed to the third month of the year: light blue or blue-green aquamarine associated with gentle, spiritual Pisces and green with red bloodstone associated with vibrant Aires. Both of my siblings are born in March, one gentle Pisces and the other dynamic Aires. These gems have served perfectly as gifts for them and other people I know born in the same month.
Aquamarine is the official birthstone of March as determined by the Jewelers of America in 1912, but bloodstone was long seen as the birthstone in the Ayurvedic system.
Bloodstone is a lovely  dark green with  red colors running through it which is believed to be a blood purifier. Bloodstone, also known as Heliotrope, is a form of Chalcedony. Its forest green color is caused by small crystals of Actinolite while the highly-sought red flecks are formed by the presence of Iron Oxides. These dark green Bloodstones may also show white and yellow mineral inclusions. As you know there are different systems of birthstone determination and  bloodstone is also February's mystical birthstone as determined by the ancient Tibetan system.
Fine jewelry is a treasure, and I have searched long and hard to bring you some of my very favorite pieces of genuine bloodstone jewelry in lovely gold or silver settings.
Bloodstone in the natural world is found primarily in India, but some is even found in California.
In nature, bloodstone is made of chalcedony: a quartz and moganite mixture. Green chalcedony with inclusions of red coloring from iron ore or red jasper makes up the bloodstones you most commonly find. Bloodstone is usually predominantly green with red veins and always makes a huge impact on the recipient because it is so exceptional.
Bloodstone birthstone jewelry is full of mystery and symbolism.
The majestic bloodstone,  also known as heliotrope – because it reminded ancient people of the setting sun –  is much less well known than it should be. Aquamarine – the light blue-green stone considered the gift of the mermaids is the traditional March birthstone, but bloodstone is a gorgeous alternative for the March born.
Heliotrope actually has a very deep religious significance to Christians. The natural rock is generally green with red accents. In Christian mythology the stone was believed to be formed from the tears and blood of Christ as they fell onto the green Earth. Bloodstone jewelry is mysterious as well as pretty. In keeping with this symbolism, bloodstone is known to represent selflessness.
Gorgeous bloodstone Is believed to have healing properties. Crystal healers use this earthy stone is excellent to help  people gain courage in times where they need to step forward and change their lives. This is the stone of new beginnings,  a brilliant stone to wear if you are starting a new chapter. In crystal healing, bloodstone is used to help with circulation problems and to remove energy blocks. In any case, I find bloodstones are tremendously grounding.  Bloodstone is known as  the "Stone of Courage," promoting  protection, grounding, and calming.The other birthstone of March, the light-blue aquamarine which is also a healing stone, helping soothe the emotions.
Beautiful Bloodstone Birthstone Jewelry: Bloodstone Pendants and Necklaces
I have found some outstanding bloodstone pendants and necklaces. Some are from one of my favorite companies: Silver Rush provides amazing one of a kind, artisan made jewelry. I love to go to their site just to learn about jewelry!
Any necklaces and pendants purchases  from Amazon will be completely reliable of course, because of Amazon's 100% customer satisfaction guarantee. Sometimes it can be intimidating buying birthstone jewelry or any personal material on Amazon, but after using their system for years I am very comfortable.
I was delighted to find bloodstone jewelry that is handmade on Amazon, as they are moving into the world of the artisan. One of my favorite pieces is the one of a kind lapis and bloodstone necklace.  Bloodstone is of course March's birthstone and lapis lazuli is September's birthstone.
One-of-a-kind Necklace- Lapis and Bloodstone Pendant- 18 inch Sterling Silver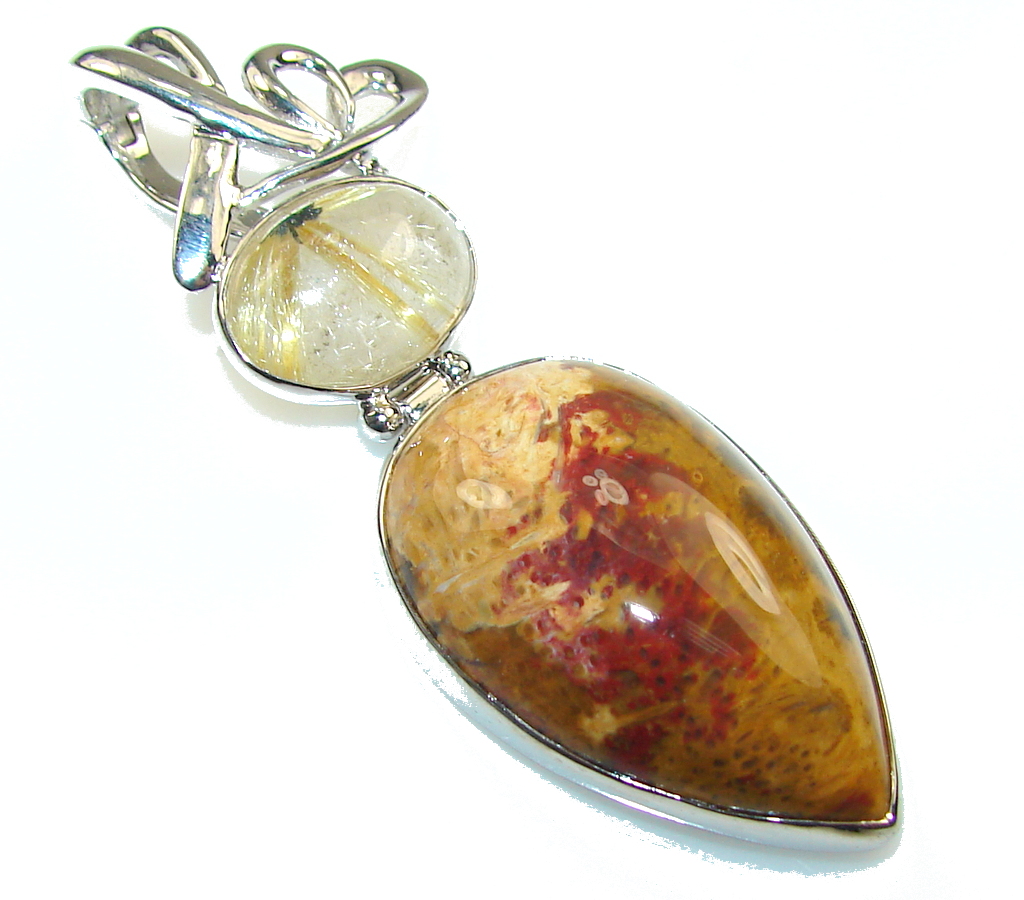 New Amazing Design AAA Bloodstone and Golden Rutilated Quartz Sterling Silver Pendant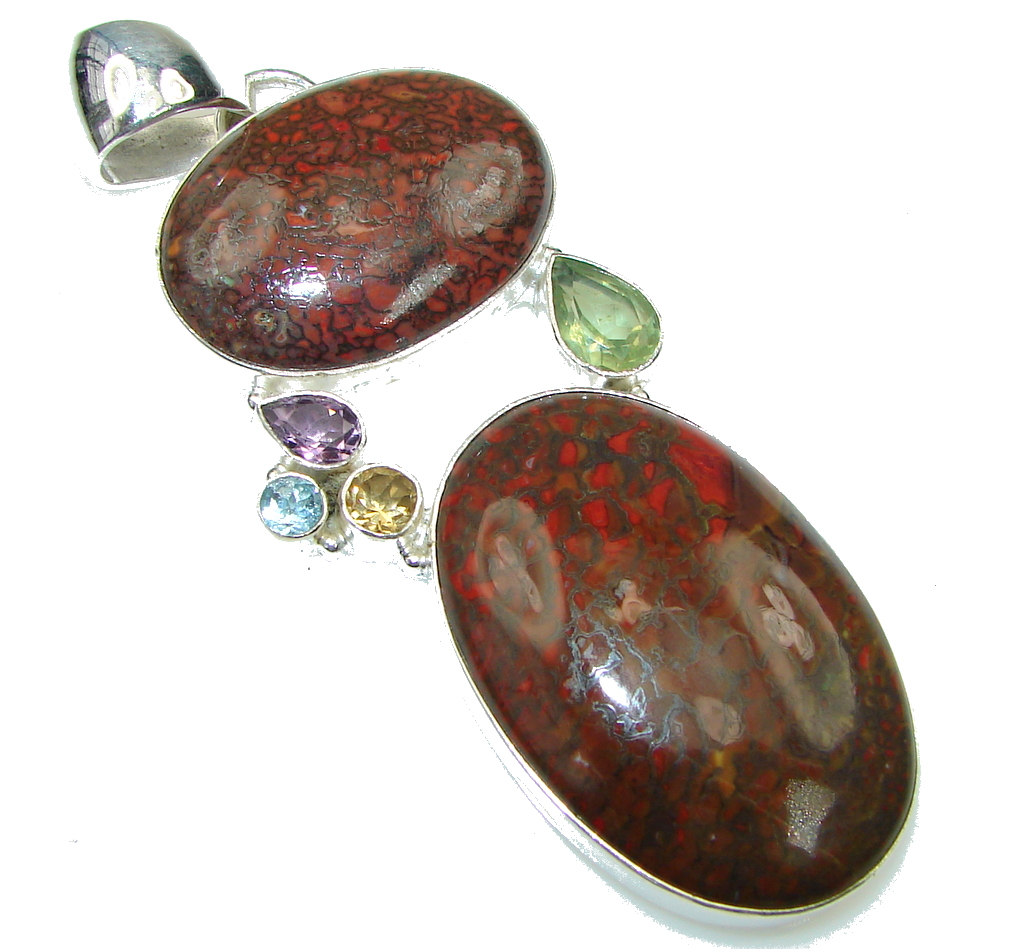 Large! Opening Night! Red Bloodstone Sterling Silver Pendant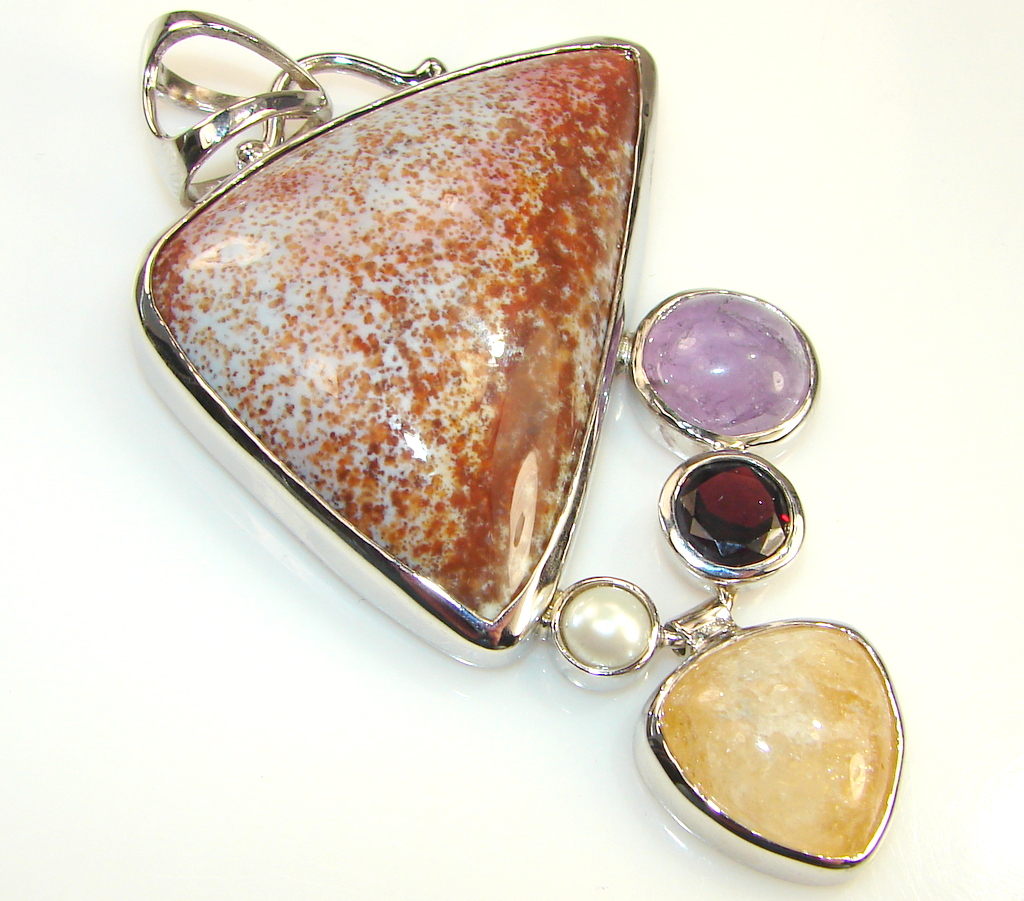 Incredible Bloodstone Sterling Silver Pendant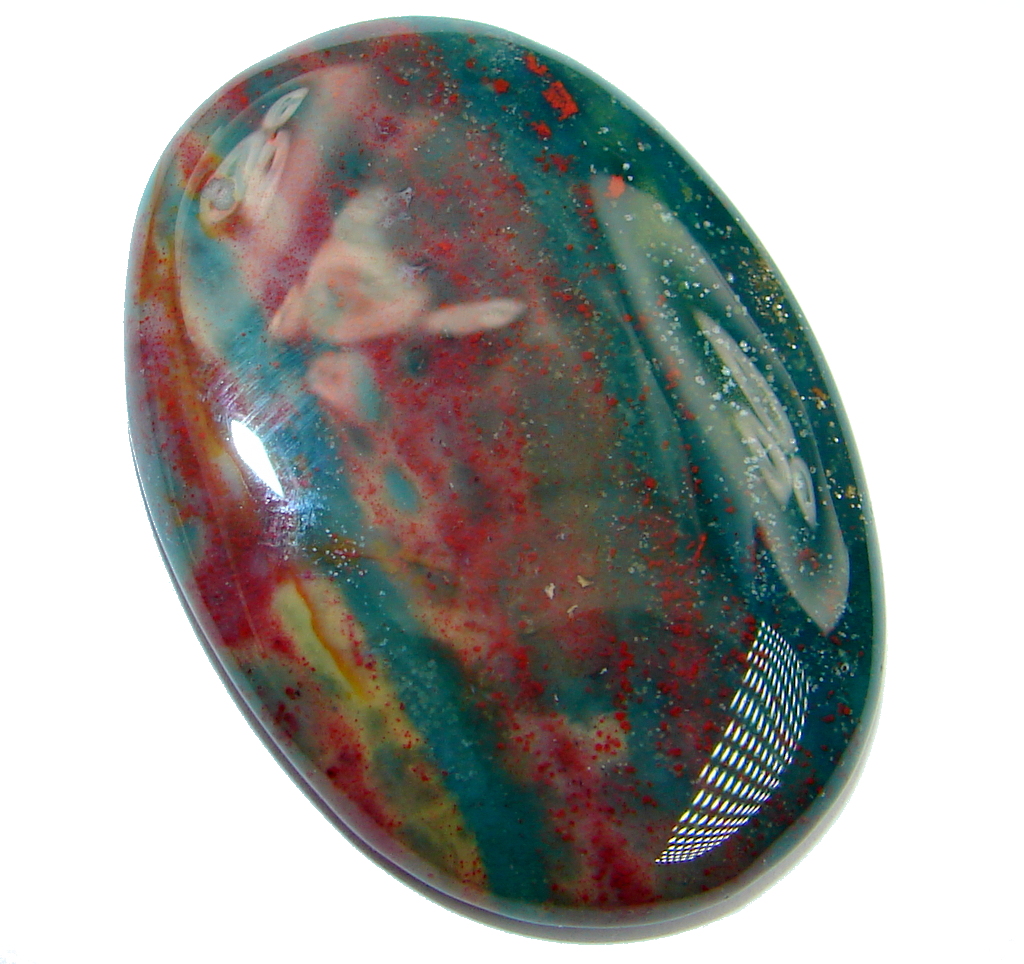 AAA BloodStone 26.5ct Stone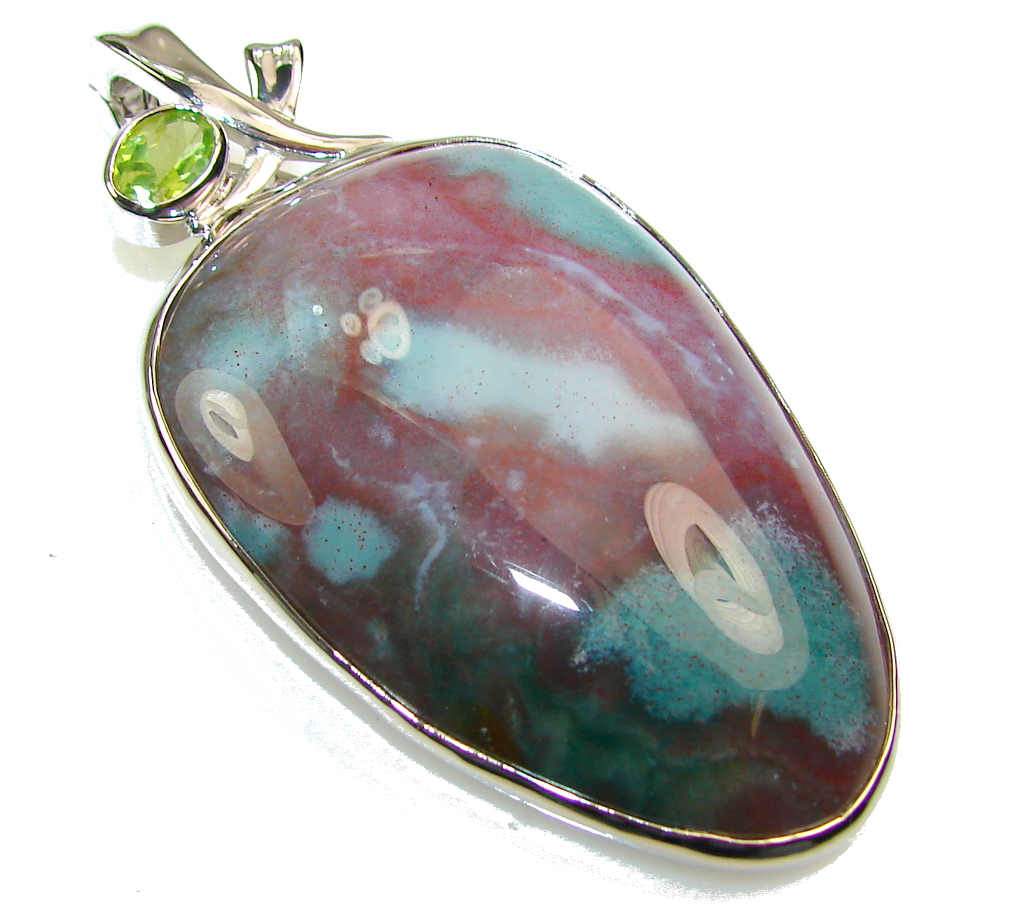 Awesome Bloodstone Jasper Sterling Silver Pendant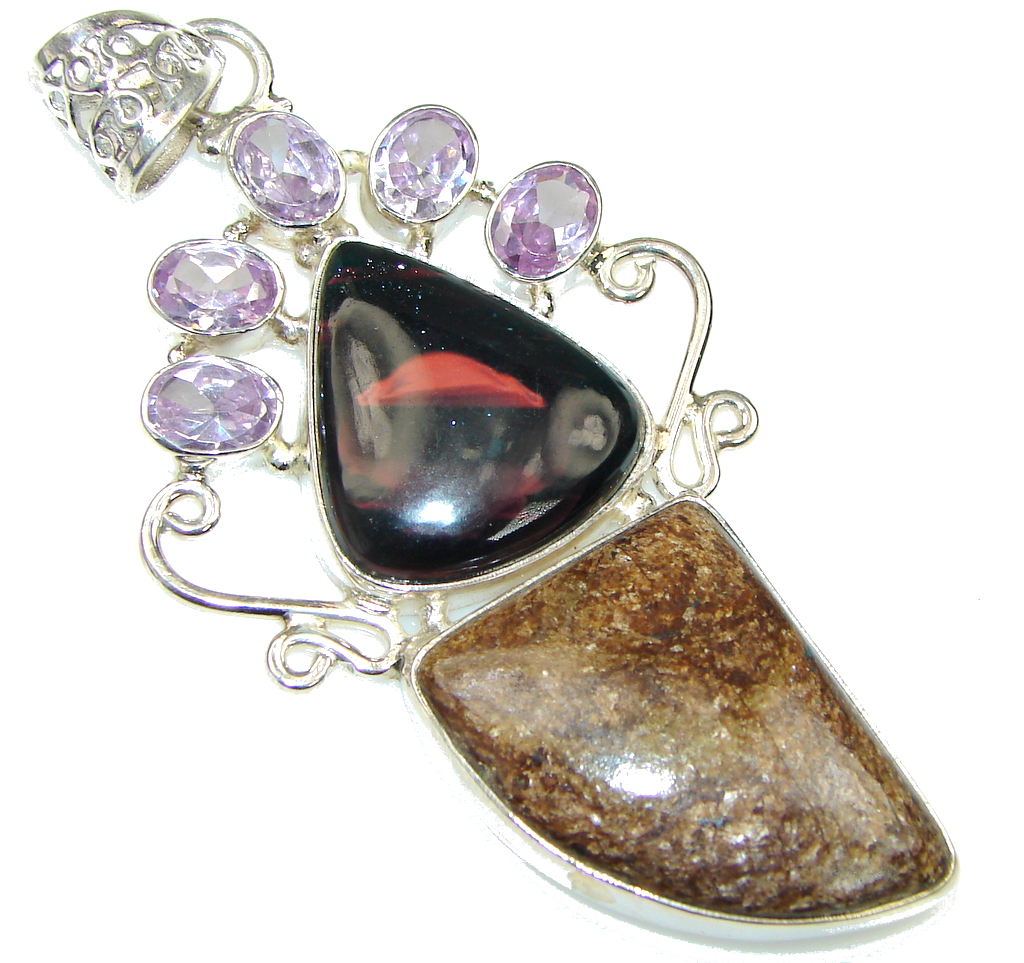 Big! Pale Beauty! Gold Pietersite Sterling Silver pendant

Bloodstone Earrings: Beautiful and Eerie Bloodstone Birthstone Jewelry
The Bloodstone is a crystal-like object that eternally drips the blood of saints. It flows eternally, and thus vampires who wear it can survive on it without having to feast on the necks of beautiful mortals.
Bloodstone is beautiful, and certainly the perfect stone for any vampire or vampire lover. There is a controversy about whether it actually appeases vampires or makes their hunger worse, but isn't that the risk we take with consorting with the lower species of life?
Bloodstone Earrings 02 Green Red Oval Bottlecap 20mm Health Crystals, Silver Lever Back 1.3
Bloodstone Earrings 25 Heart Green Stone
Bloodstone Earrings 14 Nugget Silver Chain
StarGems(tm) Natural Blood Stone Handmade Mexican 925 Sterling Silver Earrings 1 1/4
Sterling Silver Rare Bloodstone Dangle Earrings
10x16mm Diamond Pyramid Bloodstone and Sterling Silver Post Earrings
Bloodstone Birthstone Jewelry – Rings
Gents Solid 925 Sterling Silver Natural Bloodstone Mens Mans Signet Ring
StarGems(tm) Natural Blood Stone Handmade Vintage 925 Sterling Silver Ring, US size 7
Bloodstone Ring 11 Green Donut Stone Gold Wire Wrapped (Size 5.5)
Huge Sterling Silver Rare Natural Bloodstone Ring Size 8
Sterling silver men ring, Steel pen processing handmade, bloodstone natural, Express Shipping
Sterling Silver Mens Cushion Cut Bloodstone Signet Ring – Size 11.75 – Sizes 8 to 12 Available
Gents Solid 925 Sterling Silver Natural Bloodstone Mens Mans Signet Ring – Size 9.25 – Sizes 6 to 13 Available
Bloodstone Birthstone Guardian Angel
This little birthstone guardian angel will delight your home or your garden. And offer protection too!
Carved African Bloodstone Gemstone Peace Angel Pocket Guardian AngelHealing Statue
Bloodstone birthstone jewelry can be some of the cornerstone jewelry in your collection.
I love the mysterious bloodstone, and believe that the rich deep red and green stone could be enjoyed by many people, even if you do not claim bloodstone jewelry as your birthstone.