Birthstone poison rings
Birthstone poison rings will be an unique part of your jewelry wardrobe!
What is a poison ring?
And why will  you want a special birthstone poison ring?
Rings with secret compartments have been made for thousands of years. Some of the earliest  were from the Greeks.
Poison rings are  lockets.
But unlike lockets that you wear around your neck, poison rings adorn your fingers.
But the thrill of poison rings is not their beauty – but what they hold in the secret compartment.
They are very special , whether they keep pills, smelling salts, lockets – or even poison.
It is rumored that the lovely Lucrezia Borgia used poison rings to kill her victims. Other people think you that she just got a bad rap. There really is not a lot of information about if Lucrezia used the poison ring or not, although the Borgia family had a bad habit of poisoning.
What do you think?
Some people would keep poison in their rings for themselves on really bad days!
DON'T DO THAT!
Talk to me about getting through those really bad days!
You don't need to resort to the poison ring. 😉
January Birthstone Poison Rings: Garnet
The smokey-red garnet is the birthstone of January.
Poison Ring Bali Sterling Silver Locket Ring Secret Compartment Garnet AR11
Red Garnet January birthstone Poison Ring Bali Sterling Silver Secret Locket
February  Birthstone  Poison Rings: Amethyst
Amethyst is a stone of spirituality, and the birthstone of February.
Here are some beautiful amethyst rings in the traditional purple, although it comes in green as well.
Purple Amethyst Size 6 7 8 9 Poison Ring Locket Bali Sterling Silver Secret Compartment Jewelry
Poison Ring Bali Sterling Silver Locket Ring Amethyst February Birthstone
Purple Amethyst Tear drop Poison Ring Locket Sterling Silver Secret Compartment
Here are some other modern day uses for poison rings:
Hide a nitro pill if the ticker is giving you problems
Tote a love note
A perfect place for a breath mint if you are going to get kissed!
Carry some glitter if you want to sprinkle your fairy dust here and there.
March Birthstone Jewelry Poison  Rings: Aquamarine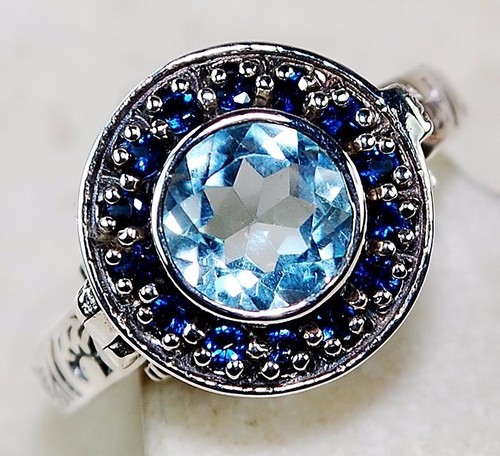 2CT Aquamarine 925 Solid Sterling Silver Art Deco Poison Ring Jewelry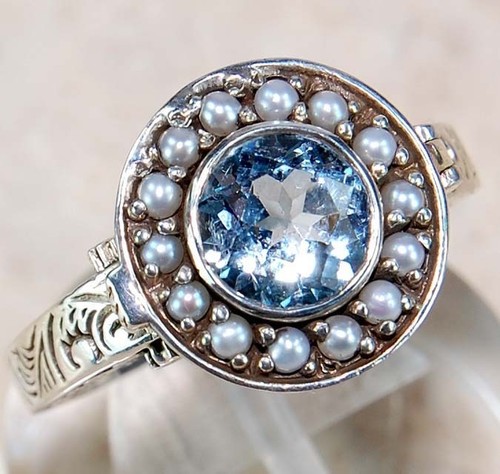 1CT Aquamarine & Pearl 925 Solid Sterling Silver Poison Ring Jewelry

April Birthstone Poison Rings: Diamond
Diamond is the "Queen of Gems" . This  April birthstone poison ring jewelry is memorable indeed.
I especially loved the amazing Georgian ring from eBay. With the skull center, there is little doubt that the ring may have had a nefarious purpose. But the ring of diamonds sure makes it beautiful!
May Birthstone Poison Rings: Agate and "Emerald"
Here are two lovely poison box rings. The first features may's alternative birthstone of agate. And the second features a lovely emerald substitute.
Antique Secret poison box sterling silver men ring handmade, agate and malachite natural gemstone
Poison Ring Bali Sterling Silver Locket Ring Green Quartz (sub for may emerald) birthstone AR11
June Birthstone Poison Rings: Moonstone,  Pearl and Mother of Pearl
UNUSUAL SOLID 9CT GOLD TURQUOISE & PEARL BOX LOCKET POISON RING

Poison Ring Bali Sterling Silver Locket Ring rainbow Moonstone AR04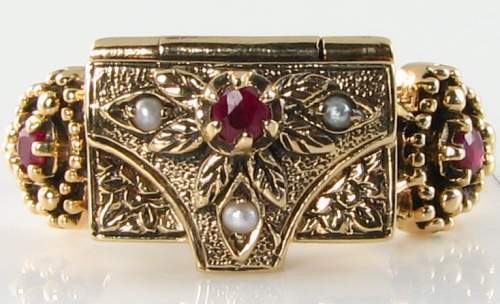 UNUSUAL 9K 9CT GOLD INDIAN RUBY & SEED PEARL BOX POISON LOCKET RING FREE SIZE


The Poison Ring Mother of Pearl 925 Sterling Silver/ Secret Box Ring/ Handmade

July  Birthstone Poison Rings:  Ruby and Onyx
"Ruby" July Birthstone Poison Ring Bali Sterling Silver Locket Ring synthetic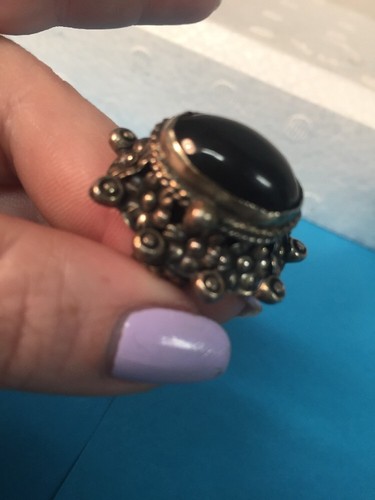 Taxco Mexico 925 Silver Adjustable Poison Ring Onyx Eagle Hallmark & Signed

Synthetic Ruby Poison Ring Bali Sterling Silver Locket Ring Secret Compartment
Secret compartment ring found
Unfortunately no gold treasure or bones of the ancestors. Sorry guys.
Of course not all secret compartment rings  held poison.
Some secret compartment rings hold pills or smelling salts.
Some show  beautiful pictures in the lockets. Such is the case with the beautiful locket ring of Elizabeth the First and Anne Boleyn.
A  gold ring made of rubies, diamond, enamel and mother of the pearl  an amazing  story inside.
Queen Elizabeth I was the daughter of Henry VIII and Anne Boleyn.
She was the daughter of Henry VIII and Anne Boleyn. Queen Elizabeth had a tragic  childhood – her mother Anne Boleyn was  executed by Henry VIII when she was Elizabeth was just a tiny girl of three.
Her father married four more times.
The only constant person in her life was her nanny, Kat Ashley.
So Elizabeth always had a ring with her mother's picture.
After that story I would not be surprised if there was a little poison in there too!

August Birthstone Poison Rings: Peridot
Poison Ring Bali Sterling Silver Locket Ring Secret Compartment Peridot AR11
Green Peridot Size 7 8 9 Poison Ring Locket Bali Sterling Silver Secret Compartment Jewelry JD33
September Birthstone Ring: Sapphire
Poison Ring Bali Sterling Silver Locket Ring Blue Terbium Substitute for Sapphire September Birthstone
October Birthstone Ring: The Opal
October has the mysterious opal as a birthstone. The jewel the tourmaline is the other birthstone of October.
I have had a hard time finding precious opal keepsake rings, but there are some exceptional rings on eBay.
It was difficult to find tourmaline birthstone poison rings. But I will keep looking!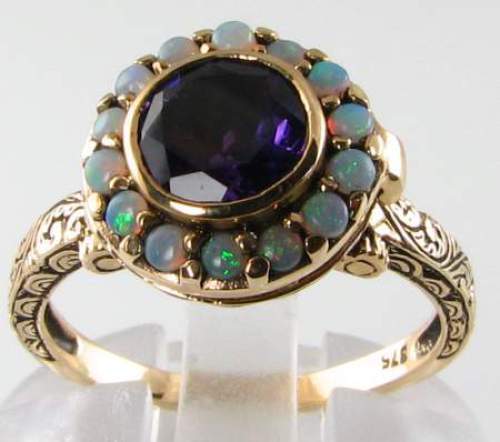 LOVELY 9K GOLD AMETHYST & FIERY OPAL LOCKET POISON RING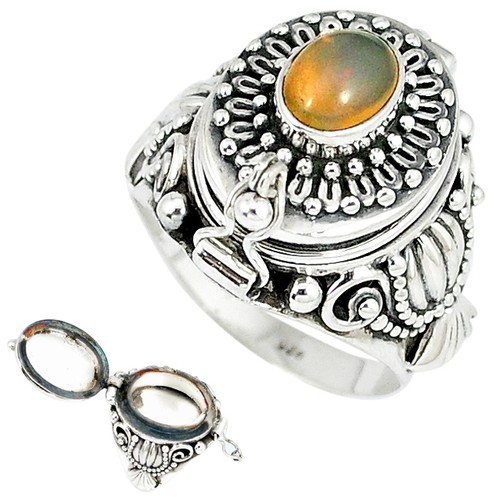 Natural multi color Ethiopian Opal 925 silver poison box ring size 8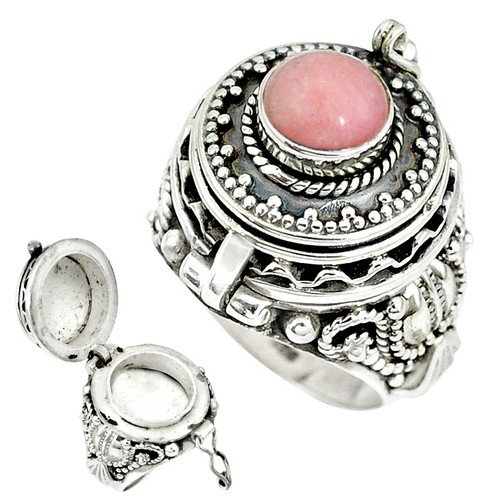 925 STERLING SILVER NATURAL PINK OPAL ROUND POISON BOX RING SIZE 7

November Birthstone Ring: the Topaz and the Citrine
You have two beautiful birthstone choices for November: the multi-colored topaz and the lovely orange-yellow citrine.
December Birthstone Poison Ring: the Turquoise, the Tanzanite
Turquoise is the main birthstone of December. This lovely blue-green stone has been used in jewelry from the Navajo to the Egyptians.
Beautiful blue tanzanite is the newest birthstone. It was only discovered by the Masai people in Africa in this century!
These poison rings will be an asset to any person born in December.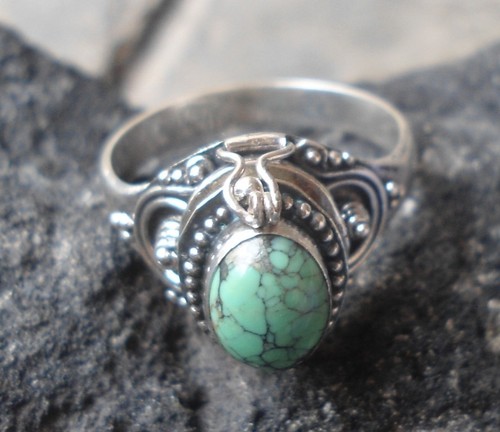 Sterling Silver Balinese Poison/Locket Ring With Turquoise Size 8


Natural blue tanzanite oval 925 silver poison box ring jewelry size 7.5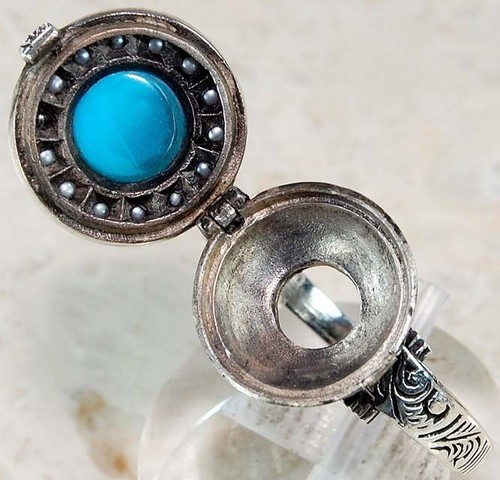 Turquoise & Seed Pearl 925 Solid Sterling Silver Poison Ring Jewelry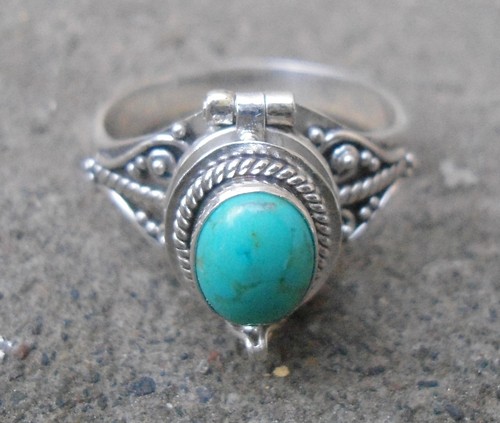 925 Sterling Silver-Balinese Poison/Pill Locket Ring With Turquoise Size 9

Poison Pill Box Birthstone Necklaces
Rings are great!
But necklaces and pendants are easier to give as a present.
Here are some lovely poison pill box birthstone necklaces.
These are in both fashion and fine jewelry.
 Claddagh Poison Pill Ring
This claddagh ring does not have a birthstone in it. But  I included this ring because I love claddagh rings so much!
Claddagh rings are based on an Irish tale. The hand represented true bonding of friendship, the crown represented loyalty and the heart represents the heart you are pledging to your lover.
I also included this ring because it shows so perfectly what a poison ring (or keepsake ring) really is. The secret compartment is perfect for including whatever you desire.
I have found many claddagh rings with birthstones that I am sure you would enjoy.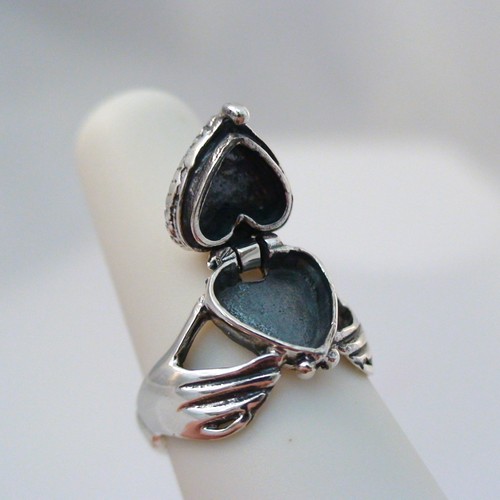 Claddagh Heart Poison Ring – 925 Sterling Silver – Victorian Style Poison Ring

I first learned of poison box rings when I read a little article by a fellow blogger Joan Adams: Silver Poison Rings
There are poison rings in birthstones of every month of the year.
Enjoy the special birthstone poison rings and necklaces!